First Textbook on Simulation in Humanities
Advances in simulation techniques are helping to break new ground for our understanding of large-scale, long-term complex trends in social, economic and political systems. The first textbook on the simulation technique Agent-based Modelling (ABM) aimed at researchers studying the past is now published by AIAS Fellow Iza Romanowska and international collaborators.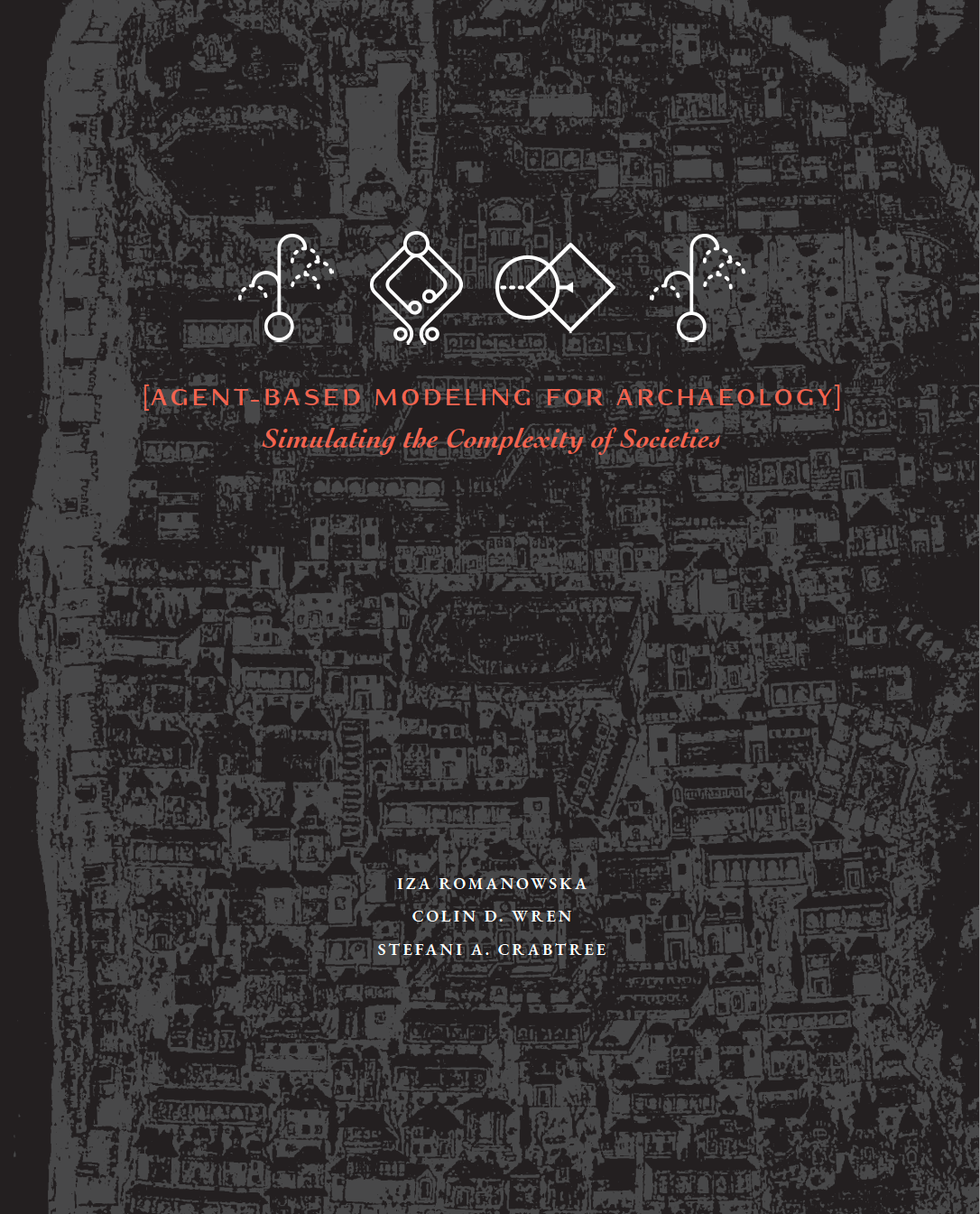 Why did some historical events trigger catastrophic consequences while others leave no trace? What makes a human community resilient to climate change? Where did people walk in ancient cities and what does it tell us about urban growth?
While questions like these have engaged researchers for decades, the new wave of quantitative and computational models that is sweeping disciplines concerned with human past promises to address them in a systematic fashion. First and foremost among them is dynamic modelling, or simulation, which helps to investigate mechanisms and processes that drove individuals, groups and whole societies over human history. These tools enable researchers to use knowledge on the large-scale societal trends that unravel over decades and centuries to better understand the present and predict possible trajectories in the future.
The book Agent-Based Modeling for Archaeology: Simulating the Complexity of Societies is the first simulation textbook aimed at the historical and archaeological audience. Published by SFI Press, the publishing arm of the home of Complexity Science - the Santa Fe Institute, it brings methods developed by mathematicians, physicists and biologists who work on complex systems to the field of humanities.
The authors, Iza Romanowska (Aarhus Institute of Advanced Studies), Colin D. Wren (University of Colorado Springs), and Stefani A. Crabtree (Utah State University and The Santa Fe Institute) are well-known modellers who have been working on archaeological case studies ranging from human migrations, trade interactions and eco-sociological dependencies in a variety of contexts.
"Simulation techniques, such as ABM, vastly improve our ability to combine data coming from different sources and to build increasingly reliable and robust narratives about human behaviour and relationships with the natural world. It pushes our disciplines away from the traditional discourse-based scholarship and towards practices similar to those employed by our colleagues in natural, physical and social sciences." said book author Iza Romanowska, AIAS Fellow at the Aarhus Institute of Advanced Studies and the Center for Urban Networks at Aarhus University.
Book Launch talk on 16 September
If you are curious to know more about the technique of Agent-Based Modeling, AIAS is hosting a Book Launch talk on 16 September at 15.00 at which author Iza Romanowska will give a talk about ABM and her new book. The talk is followed by discussion with Professor Felix Riede, the Department of Archaeology and Heritage Studies, Aarhus University, and an Associate Fellow at the Aarhus Institute of Advanced Studies; and Assistant Professor Arthur Hjorth at the Department of Management, Aarhus University.
Register for the Book Launch talk here

For students, researchers and an ABM reference book
The book is a practical introduction to the simulation technique of agent-based modelling. Its primary audience are archaeologists, but also more broadly students and researchers within the humanities. The volume can be used for university class teaching, for self-teaching; and it provides the community of ABM modelers with a reference publication that can be consulted, for instance when looking for a specific algorithm and its implementation or for previous ABM applications in a given research area. You can purchase a physical copy through Amazon or download a free pdf at https://www.sfipress.org/books/agent-based-modeling-archaeology
The book
Agent-Based Modeling for Archaeology: Simulating the Complexity of Societies edited by Iza Romanowska, Colin D. Wren, and Stefani A. Crabtree. SFI Press, 2021.
Contact
Iza Romanowska, AIAS Fellow, Postdoc
iromanowska@aias.au.dk
Aarhus Institute of Advanced Studies
Høegh-Guldbergs Gade 6B
8000 Aarhus C
Denmark