Historical Metallurgy Society Grant
The HMS Grant is received by Assistant Professor Thomas Birch.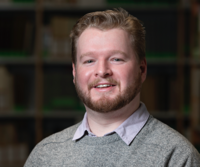 The Historical Metallurgy Society have awarded Assistant Professor Thomas Birch a small grant for initiating research into the usability of strontium isotopes for provenancing iron in the North Atlantic. The project is designed to evaluate whether iron deriving from geologically younger and isotopically distinctive regions (i.e. Iceland) can be easily traced across the North Atlantic. This is especially relevant for provenancing iron artefacts as part of the Viking expansion to Greenland and North America.